Training shorts Mandala Emerald
31,00 €
Regular price:
45,00 €
(Discount
31
%)
Lowest price in 30 days before discount:
31,00 €
Women's biker shorts for women training BJJ, MMA, kickboxing, boxing or any other martial sport. The shorts act like a second skin, guaranteeing comfort and freedom of movement during training. Thanks to flatlock seams, they do not irritate the skin and the high-waisted belt prevents them from slipping. The compression shorts are made from a stretchy, anti-pilling material that wicks away sweat and ensures an optimal body temperature.
Features: 
- Best quality breathable, smooth, anti-pilling and stretchy fabric
- Wide waistband with high rise for better comfort and fit
- Comfortable cut that wraps perfectly around the legs
- Feel like a second skin
- Guaranteed freedom of movement
- High-quality, indelible print
- Original, feminine design
Material:
- Polyester 87%
- Elastane 13%
THERMOFLEX
MATERIAL
Material stretches in every possible direction making it feel like second skin. Special fibers cause that even during intense workout it keeps you cool and dry.
DYEACTIVE PRINT
Highest quality dye that allows to obtain clear and vibrant color. Dye goes deeply into the fiber structure which makes it resistant to fade even after several washes.
FLATLOCK SEAMS
Flat seams with the use of elastic threads do not cause irritation to your skin and hold the pieces of material strongly together. Thanks to the flatlock technology the material withstands a lot of tension and your gear won't break during training.
| Size | A | B | C |
| --- | --- | --- | --- |
| XS | 29 cm | 50 cm | 22,5 cm |
| S | 31 cm | 51 cm | 23,5 cm |
| M | 32 cm | 52 cm | 24 cm |
| L | 35 cm | 53 cm | 25 cm |
The dimensions given are measured without stretching.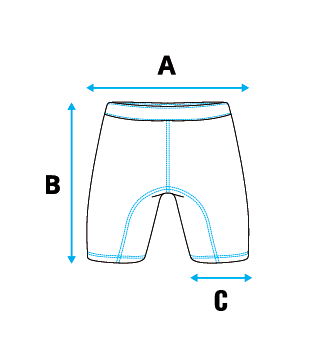 Choose a larger size if you are in between sizes and especially when your thigh muscles are larger than usual.