Rashguard Yokai 3.0 Short sleeve
Buy a set and save 10

Short-sleeved rashguard
A new version of the bestselling collection Yokai 2.0, inspired by the popular Japanese tiger tattoo motif. In Japanese culture, the tiger symbolises strength, courage and long life. It can chase away demons, and tattoos of its image can protect against bad luck and illness.
The rashguard acts like a second skin, protecting the body from abrasions and ensuring optimal body temperature.
Features:
- Top quality breathable and stretchy fabric that resists fuzzing and ensures maximum hygiene,
- Underarm micromesh panels that make the rashguard more breathable and prevent sweating from accumulating,
- A special cut that fits perfectly around the body,
- Inside, we have used a special elastic at the bottom, which prevents the rashguard from pulling up during exercise,
- Non-abrasive sublimation print,
- Unique design.
Material:
- Fabric: polyester 87%, elastane 13%
- Mesh: polyester 82%, elastane 18%
THERMOFLEX MATERIAL
Material stretches in every possible direction making it feel like second skin. Special fibers cause that even during intense workout it keeps you cool and dry.
FLATLOCK SEAMS
Flat seams with the use of elastic threads do not cause irritation to your skin and hold the pieces of material strongly together. Thanks to the flatlock technology the material withstands a lot of tension and your gear won't break during training.
DYEACTIVE PRINT
Highest quality dye that allows to obtain clear and vibrant color. Dye goes deeply into the fiber structure which makes it resistant to fade even after several washes.
| Size | A - Length | B - Width |
| --- | --- | --- |
| XS | 67 cm | 41,5 cm |
| S | 68 cm | 43 cm |
| M | 70 cm | 44 cm |
| L | 72 cm | 46cm |
| XL | 74 cm | 48 cm |
| XXL | 76 cm | 50,5 cm |
The dimensions given are measured without stretching.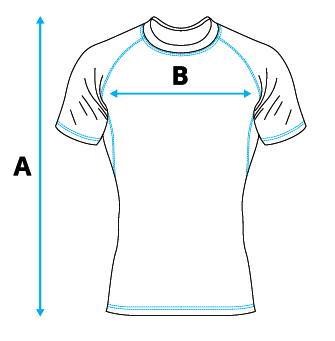 MATCH YOUR SIZE WITH HEIGHT AND WEIGHT: