Rashguard Bushido 3.0 (Black) short sleeve
Buy a set and save 10

Short-sleeved rashguard
Bushido 3.0 is a continuation of our bestselling project. This time we polished the graphics and designed it with even greater attention to details. At the back we placed kanji that symbolizes 7 virtues of bushido that is: integrity, respect, courage, honor, compassion, honesty, loyalty. Two significantly different sleeves symbolize the eternal fight between good and evil that we all have in us.
Features:
- Thick, very durable and top quality spandex material
- Specially designed to feel like second skin
- Keeps you warm and dry during training
- Wrapstarp system - elastic, silicon strap that holds the rashguard in place. It prevents the material from riding up.
- Sublimated printings that will last forever
- Excellent design
Material:
Fabric: 87% polyester, 13% elastane
Micromesh: 82% polyester, 18% elastane
THERMOFLEX MATERIAL
Material stretches in every possible direction making it feel like second skin. Special fibers cause that even during intense workout it keeps you cool and dry.
DYEACTIVE PRINT
Highest quality dye that allows to obtain clear and vibrant color. Dye goes deeply into the fiber structure which makes it resistant to fade even after several washes.
FLATLOCK SEAMS
Flat seams with the use of elastic threads do not cause irritation to your skin and hold the pieces of material strongly together. Thanks to the flatlock technology the material withstands a lot of tension and your gear won't break during training.
WRAPSTRAP SYSTEM
Elastic, silicon strap that holds the gear in place during training. Thanks to this solution you can be sure that the material won't ride down or up.
| Size | A - Length | B - Width |
| --- | --- | --- |
| XS | 67 cm | 41,5 cm |
| S | 68 cm | 43 cm |
| M | 70 cm | 44 cm |
| L | 72 cm | 46cm |
| XL | 74 cm | 48 cm |
| XXL | 76 cm | 50,5 cm |
The dimensions given are measured without stretching.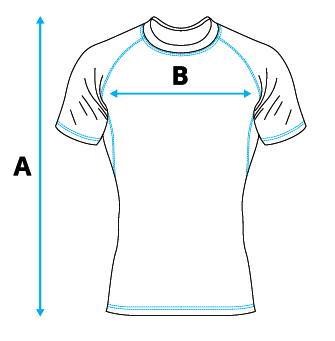 MATCH YOUR SIZE WITH HEIGHT AND WEIGHT: