Rashguard Poland short sleeve
Buy a set and save 10

Short-sleeved rashguard
The short-sleeved men's rashguard "Poland" is the black version of the official outfit of the Polish National Grappling Team. Wear it proudly!
The men's rashguard is perfect for BJJ, MMA, judo, jiu jitsu and other combat sports training.
Features:
- Thick, very durable and top quality spandex material
- Specially designed to feel like second skin
- Keeps you warm and dry during training
- Wrapstarp system - elastic, silicon strap that holds the rashguard in place. It prevents the material from riding up
- Excellent design



Material:
Fabric: 87% polyester, 13% elastane
Micromesh: 82% polyester, 18% elastane


THERMOFLEX MATERIAL

Material stretches in every possible direction making it feel like second skin. Special fibers cause that even during intense workout it keeps you cool and dry.

DYEACTIVE PRINT

Highest quality dye that allows to obtain clear and vibrant color. Dye goes deeply into the fiber structure which makes it resistant to fade even after several washes.

FLATLOCK SEAMS

Flat seams with the use of elastic threads do not cause irritation to your skin and hold the pieces of material strongly together. Thanks to the flatlock technology the material withstands a lot of tension and your gear won't break during training.

WRAPSTRAP SYSTEM

Elastic, silicon strap that holds the gear in place during training. Thanks to this solution you can be sure that the material won't ride down or up.

MICROMESH MATERIAL

Material has micro wholes that ensure aeration and feeling of coolness during training. Thanks to its unique structure even during hottest days you can be sure that your workout will be a pleasure.
Opinions about Rashguard Poland short sleeve
5.00
Number of opinions issued: 1
Click the rating to filter reviews. We verify if opinions come from customers who have purchased a given product. After approval, we display both positive and negative feedback.
| Size | A - Length | B - Width |
| --- | --- | --- |
| XS | 67 cm | 41,5 cm |
| S | 68 cm | 43 cm |
| M | 70 cm | 44 cm |
| L | 72 cm | 46cm |
| XL | 74 cm | 48 cm |
| XXL | 76 cm | 50,5 cm |
The dimensions given are measured without stretching.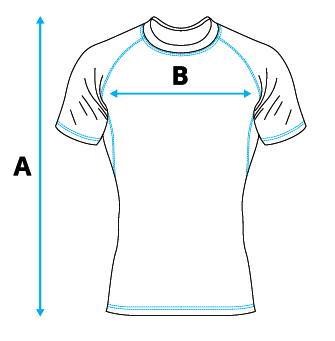 MATCH YOUR SIZE WITH HEIGHT AND WEIGHT: